I AM FREEDOM

Paintings examine the boundaries between visual and non-visual perception through the union of Braille poetry and painting. Nachum has developed a process which he sculpts raised Braille cells on the surface of the canvas.

Written by the artist, poems explore the conflict between the instinctive and the demands of civilization. Observers become participants and use multiple senses.

Nachum sees the work as an "eye opener", a vehicle to allow viewers to confront their own existential apprehensions. Subjects vision is often obscured, representing that man's "blindness" caused by displaced values and desire. One recurring subject is the child with a gold crown covering his or her eyes. (If They Let Us, 2016, ANTI, Album Cover, RIHANNA).
I AM FREEDOM

2020
Oil on Canvas
106 x 76 Inches
SUN STORM

2019
Oil on Canvas
96 x 76 Inches
EARTH

2019
Oil on Canvas
114 x 80 Inches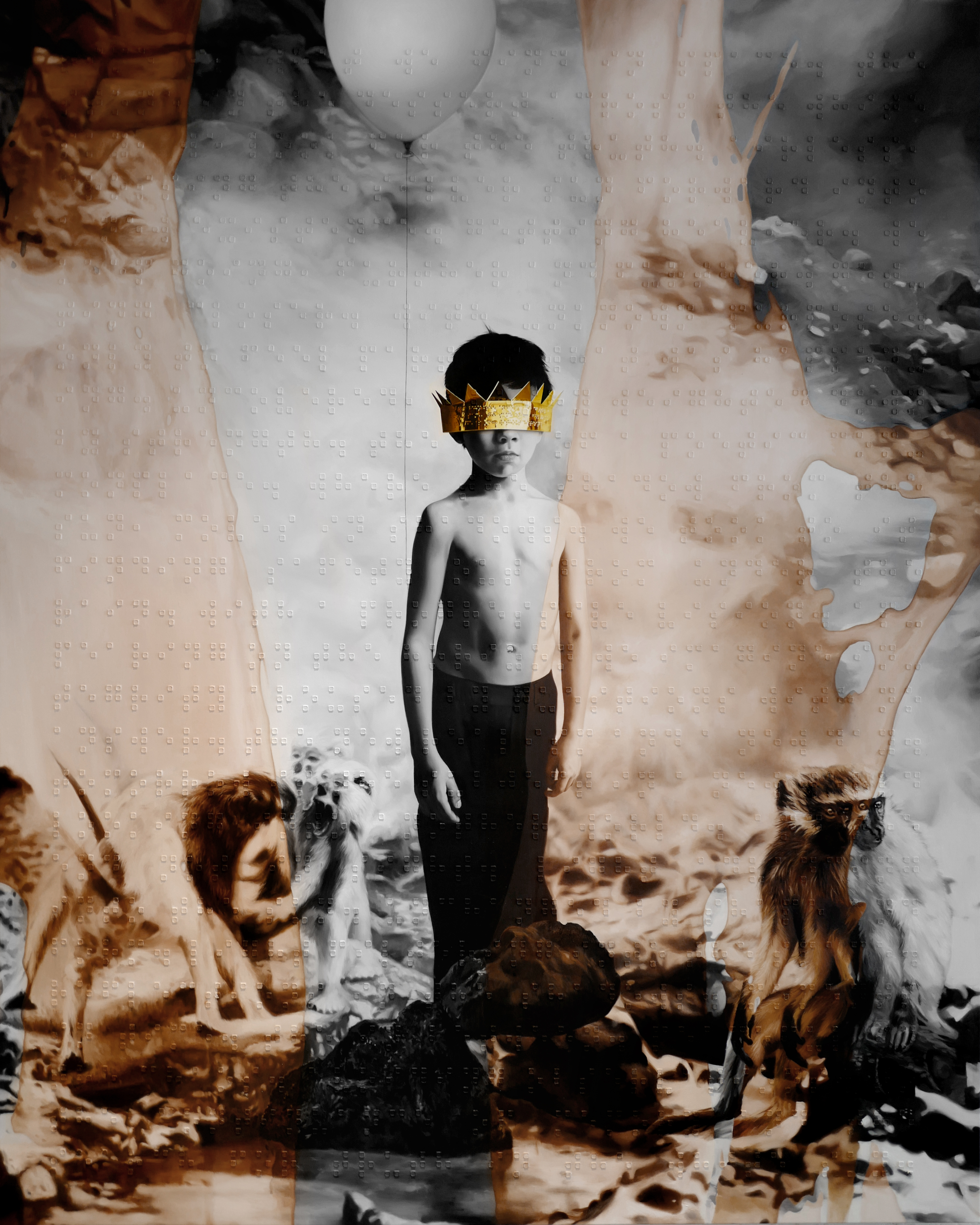 RADAR SCREEN

2017
Oil on Canvas
96 x 78 Inches / 244 x 198 cm
MONT AGEL

2018
Oil on Canvas
112 x 78 Inches / 244 x 198 cm
QUEEN

2019
Oil On Canvas
80 x 56 Inches / 200 x 142.5 cm
FEATHER WEIGHT

2016
Oil on Canvas
114 x 80 Inches / 290 x 203 cm
WHITE SKY

2017
Oil On Canvas
80 x 56 Inches / 203 x 142.5 cm
GUN METAL

2016
Oil on Canvas
80 x 56 Inches / 203.5 x 142.5 cm
IF THEY LET US PT. 1

2015
Oil on Canvas
51 x 45 Inches / 130 x 114 cm

IF THEY LET US PT. 2

2015
Oil on Canvas
51 x 45 Inches / 130 x 114 cm
VOICES

2017
Oil on Canvas
23 x 18 Inches
HORIZONTAL

2018
Oil on Canvas
80 x 61 Inches
THE QUEEN

2018
Oil on Canvas
80 x 56 Inches / 203.5 x 142.5 cm
AS WE ARE

2018
Oil on Canvas
80 x 114 Inches
FATE / BRIEF SILENCE
2017
Oil on Canvas
PARAMOUNT
2019
Oil on Canvas
80 x 56 Inches / 203.5. x 142.5 cm